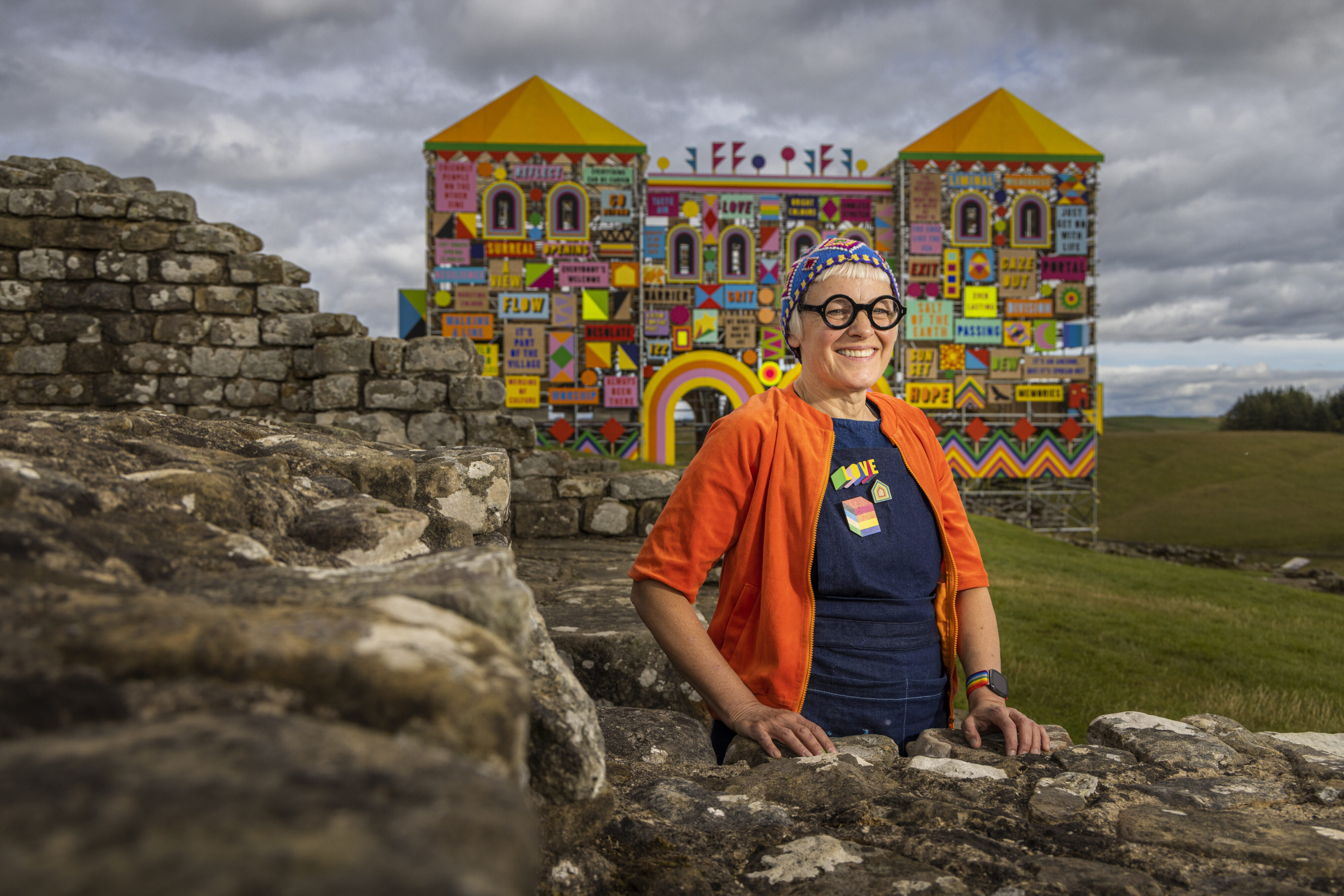 The Future Belongs To What Was As Much As What Is
Explore
The Future Belongs To What Was As Much As What Is
In celebration of Hadrian's Wall's 1900th anniversary, English Heritage installed a contemporary and colourful take on the original Roman gatehouse at Housesteads Roman Fort – one of the Wall's best preserved and most important sites.
Created by renowned artist, Morag Myerscough and the local community the temporary installation – called 'The Future Belongs To What Was As Much As What Is' – stood in the exact spot that the north gatehouse at Housesteads once stood. The colourful re-imagining of the gatehouse echoes the original building in size and as visitors can climb to the top, the installation opens up views of the ancient landscape, last seen by Roman soldiers 1600 years ago.
The brightly coloured wooden placards which created the outer shell of the artwork, over a largescale scaffold frame, were designed in response to the collection of Roman artefacts on display Chesters Roman Fort Museum, Roman designs and community workshops. The words and phrases seen across the installation come from Morag's collaboration with poet, Ellen Moran and the local community through workshops where volunteers also helped to paint the placards, following the artist's designs.
The structure was removed on 30 October 2022 and the placards were offered to the community members who painted them.
English Heritage's newly launched creative programme uses contemporary visual and performing arts to complement the existing interpretation at sites and engage new audiences in distinctive aspects of the history of key sites across the country.
English Heritage would like to thank The National Lottery Heritage Fund and National Lottery players for making this projects possible.