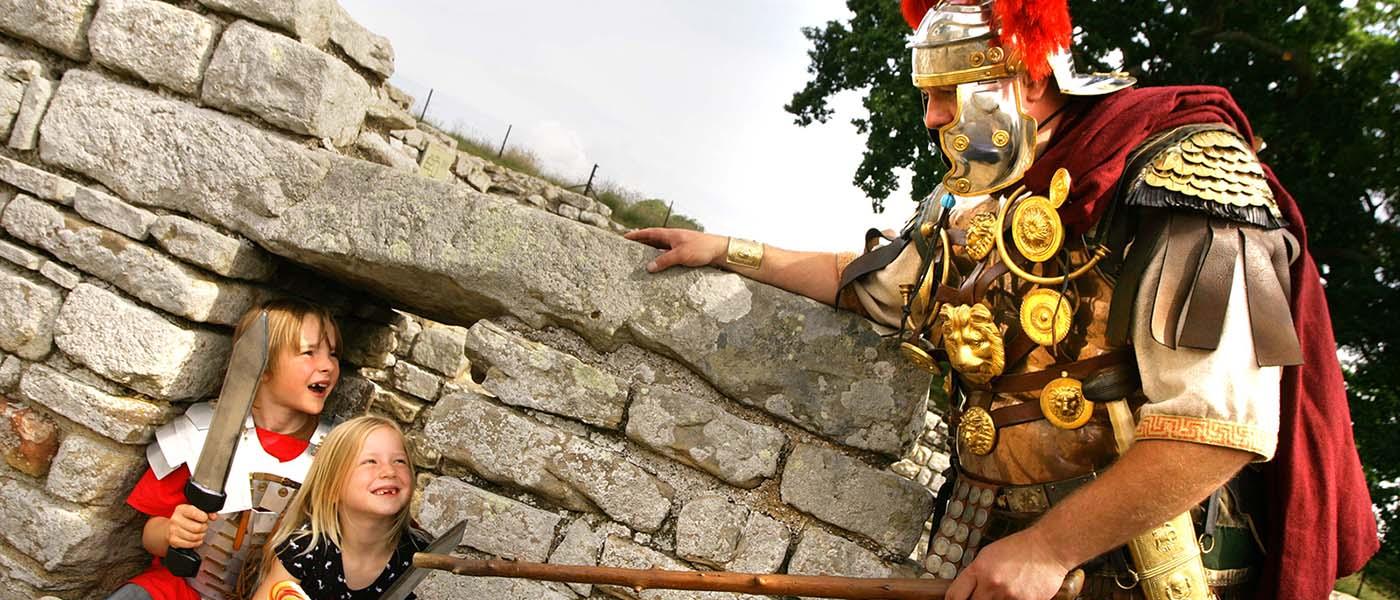 The Northumberland Family Itinerary
Explore
The Northumberland Family Itinerary
If you're a family group with kids of up to around 14 and staying in Northumberland or near Newcastle, this is for you. The central section of Hadrian's Wall (between Corbridge and Greenhead) is packed with Roman attractions.
How long does it take?
These three destinations make a full day of fun in this classic stretch of Hadrian's Wall in the wild and magnificent landscape of the Northumberland National Park. If you're making an overnight trip, simply split the attractions up over two days and spend some time in nearby Hexham. This bustling market town is full of cafés, shops and restaurants. Hexham Abbey was founded by St. Wilfrid in AD 674 and the church that originally stood on the site was built from stones taken from Hadrian's Wall.
What do we need?
Take the car, or travel on the AD122 bus that runs between Hexham and Haltwhistle railway stations between Easter and September – it's an experience not to be missed! Pack your own lunch or treat the family to a meal at one of the cafes on the Roman sites or at a pub. If you plan on doing some walking, make sure you wear appropriate clothes and footwear. The path by the Wall has many steep up and downs and the weather can change quickly.
What's the plan?
10.00am: Arrive at Chesters Roman Fort and Museum
Located right by the River Tyne near Chollerford, for over 300 years some 500 Roman cavalry troops called the Chesters garrison home. Today's visitors can see where the fort's walls lay, including those of its courtyard, headquarters, hall and shrine, which were all carefully unearthed by dedicated Victorian archaeologists. You can also see the ruins of the stately house once occupied by the commandant, who watched over everything and everyone. Chesters also runs great kids' events like workshops on How to be a Roman Soldier and seasonal activities, so check out what's on before you set off.
12.00pm: Housesteads Roman Fort
It's spectacular and remote setting make Housesteads Roman fort one of the Wall's iconic sites. You really have the feeling of being on the edge of the Roman Empire. Explore remains of all the different types of building used by the garrison including the headquarters block, centrally heated commander's house, barracks, granaries and hospital as well as the full circuit of walls. The toilet block is a favourite with children! The fort is a 15 minute walk from the car park, along a steep path, but the views are worth the effort. The small modern museum has a film showing virtual reconstructions of the fort and its buildings.
2.00pm: Vindolanda
Vindolanda is one of the most exciting and popular attractions on Hadrian's Wall. That's because excavations take place every year, so there's always something new to see. The complex of fort and civilian settlement includes military buildings, stores, shops, houses and bath houses. The indoor museum is an absolute must, exhibiting one of the most extraordinary collections of Roman objects in the world. See wooden, leather, bone and metal objects that are seldom found elsewhere, including ordinary, personal items people owned and used two thousand years ago and letters written by Roman soldiers and civilians, giving a unique insight into life on the frontier.
Options
If you are feeling adventurous, walk a mile or so along the Hadrian's Wall Path west of Housesteads. You can walk back along a parallel route just south of the Wall. Make sure you wear appropriate outdoor clothing and footwear.
Visit one of the most spectacular parts of Hadrian's Wall at Steel Rigg, just north of Vindolanda and west of Housesteads.
Housesteads or Steel Rigg are great places for a picnic if the weather is fine. There are cafes at Housesteads and Vindolanda, and the pub at Twice Brewed serves a full range of meal options.
You could also include the Roman Army Museum in your day, especially if it is wet and windy. Swop it for Housesteads and use a joint ticket for Vindolanda and the Roman Army Museum.